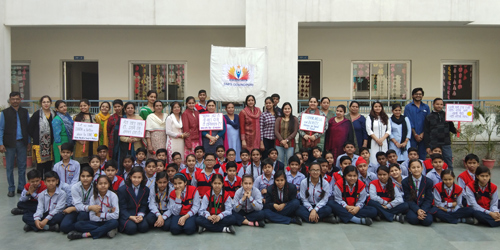 CLEANLINESS DRIVE ORGANISED ON 24 TH FEBRUARY 2018 ON THE OCCASION OF BIRTHDAY OF SATGURU BABA HARDEV SINGH JI MAHARAJ
"It is an old saying that Godliness is the root of cleanliness."
Keeping that into mind every year on the occasion of birthday of SATGURU BABA HARDEV SINGH JI MAHARAJ celebrated as "Guru Pooja Divas". A cleanliness drive was organized in the Sant Nirankari Public School, Govindpuri. One group of class VII and VIII had gone out of the school whereas the students of class VI remained in the school along with their teachers to clean the school premises.
The students were divided into groups. They were provided with the masks and gloves. They pledged to keep their environment clean.  The students, staff and teachers wholeheartedly participated in the drive. After the drive the students were given refreshments.
The students were told the importance of cleanliness and its importance in our life. His Holiness Babaji always stressed on the importance of cleanliness and hygiene. This year also under the guidance of the teachers the drive was a huge success.