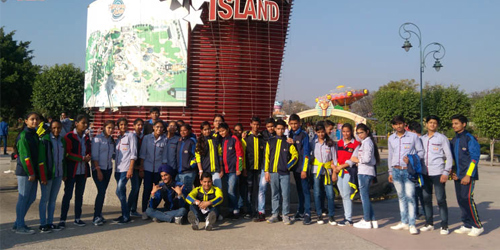 Excursion
The dawn of 22ndDecember 2017  brought a glint in the eyes and a sunny smile on the lovely faces of our students of classes Nursery, LKG and UKG ,for they were to go to DamDma lake on annual picnic, as it was a special day for them . We all look forward to picnics, whatever our age may be. With excitement and anxiety brimming in their hearts the students reached. The basic agenda of picnic was enjoyment of the students and CHRISTMAS and NEW YEAR celebration. Then the students started enjoying on different swings one by one.
The students of Class Ist to Class 8th on 30th January, 2018, went for trip to DumDuma lake. It was an exciting and fun-filled trip enjoyed by all.
A picnic is more than eating a meal, it is a pleasurable state of mind and to bring this state of mind .SNPS Faridabad organised a picnic for students of class IX to  XII to the ' Amusement Park (Rohini)' . It was a good break for students from their hectic schedule. Students enjoyed fun rides with their friends and teachers. As there is no fear when you are having fun so students enjoyed all rides with great enthusiasm. Everyone was full of life as they danced on latest music numbers. As it was the last fun trip of class XII of their school life so they wanted to make it memorable. There was no tiredness on their smiling faces on their return journey. This fun trip gave them the time which they will cherish throughout their life.
All the students enjoyed the activities like rock climbing, zip lining wherein all the students really had fun.This picnic was arranged as a re-creational activity for the students to give them a break from daily life.