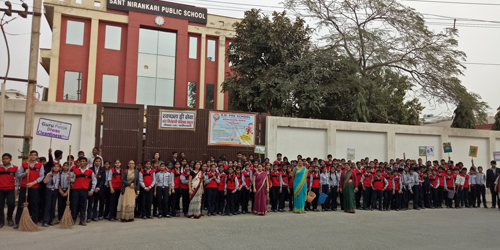 CLEANLINESS DRIVE ON GURU POOJA DIWAS
Our school organized cleanliness drive on 24th Feb.2018 on the occasion of Guru Pooja Diwas, birthday of His Holiness Baba Hardev Singh Ji Maharaj.This day holds a great importance for Nirankari Mission. Satguru Baba Hardev Singh Ji Maharaj always wanted his birthdays to be celebrated in this form wherein we could serve the society by planting trees,cleanliness drive etc. The main purpose of this programme was to create awareness among the students regarding cleanliness and its benefits. As Baba Ji believed that cleanliness outside can be achieved only when our minds are clean and pure. He said that cleanliness must become our culture.
Under this drive, all the students from class 6th to 8th participated. Even teachers were the essential part of this drive. They enthusiastically took up brooms and garbage bags to clean up every nook and corner of the Dussehra Ground, Government College for Women and Sector 16A Park.
The whole drive was quite inspiring and motivating for the staff and students .The students realized that any work is best done when it is carried out by a person himself. It also made the students aware of the dignity of labour.
The overall objective of this drive was to educate mankind about the importance of inner and outer cleanliness and purity in our lives.